---
Recon 120 $1289.99
12′ 2″ Long
38″ Wide
450 lbs Capacity
Weighs 95 lbs
The Recon series features next evolution of S.M.A.R.T. Hull Technology – Wilderness Systems' signature design approach that carefully and masterfully combines Stability, Maneuverability, Acceleration, Responsiveness, and Tracking to deliver the ultimate performance in all waters. This model's hull optimizes any mode of travel, be it paddling, pedaling, or motoring, with specialized volume distribution and under-the-waterline nuances to keep the boat moving quickly and steadily.
The Recon series also establishes a new paradigm for storage. The StowPro Storage System features an extra-large gasketed hatch and a thoughtfully configured bin to access, organize and defend important gear. Down the boat and atop each gunwale are Dual Rod Troughs – a unique horizontal rod storage solution to keep rods close-at-hand and away from wind and breakage. The troughs can hold up to three 7'6″ rods on each side, are secured with cross-lashing bungee, and are noise-dampened by Wilderness Systems' celebrated Silent Traction pads. Midship side pockets, tackle box recesses, and a functional under-seat area provides even more gear storage in all the right places, while the expansive and notched tankwell yields a custom-crafted space for popular rear storage items like the Wilderness Systems Kayak Krate.
**Check with our staff on available colors in this model**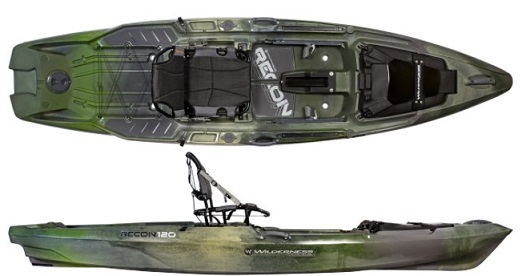 ---
Recon 120 HD 2639.99
12′ 2″ Long
38″ Wide
450 lbs Capacity
Weighs 120 lbs
The Recon 120 HD model comes standard with the tried-and-true, easy-deploy Helix PD™ Pedal Drive system. With instant forward/reverse, on-a-dime turning, and a lab tested gear ratio for smooth all-day pedaling, the Recon 120 HD packs more performance than other pedal driven kayaks in its class. The Recon 120 comes ready to paddle, or easily install the Helix PD Pedal Drive midship or add an aftermarket motor with a direct-to-boat stern mounting interface.
A supremely wide-open deck affords the angler an abundance of space, freedom of motion, and provides a rock-solid platform from which to stand, cast, and hookset in confidence. The functional layout of the intuitive topdeck interface keeps all your gear and essentials within reach, with ample surface areas for personal modifications.
**Check with our staff on available colors in this model**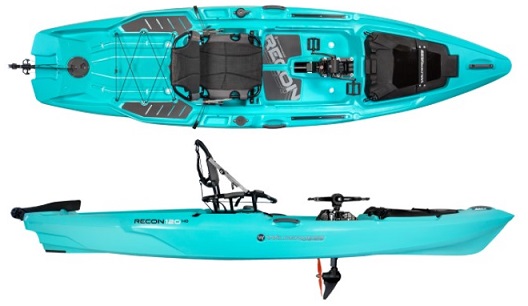 ---
Atak 120
Regular $1599.99 Sale $1199.99
12′ Long
34″ Wide
425 lbs Capacity
Weighs 85 lbs
The award-winning design of the A.T.A.K. 140 is now available in a compact package for increased manageability both on-and-off the water. The A.T.A.K. 120 is a continuation of the 140, maintaining all the core attributes that have set a new standard for fishing kayaks – an open customizable platform, unmatched stability, and a wind-shedding deck – yet the 120 brings an entirely new set of specialized performance attributes to the table. Rocker has been increased to better negotiate moving water, and a secondary transducer scupper has been added to accommodate electronics (including side-scanning technologies) while utilizing the Helix MD™ Motor Drive (sold separately). Additionally, a new quick-release cam lever now allows the AirPro MAX seat to be adjusted fore/aft on-the-fly.
**Check with our staff on available colors in this model**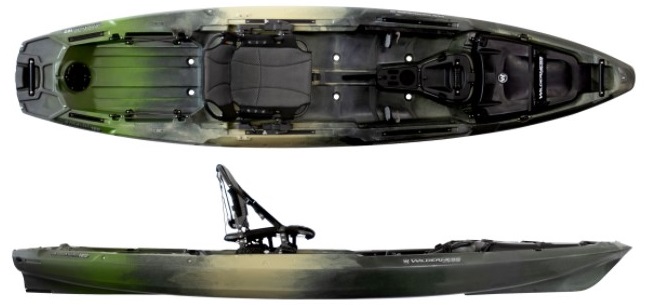 ---
Atak 140
Regular $1849.99 Sale $1299.99
14′ 1″ Long
34″ Wide
550 lbs Capacity
Weighs 95 lbs
Featuring an open design that can be customized to meet the demands of any kayak fisherman and environment. The deck is highly walkable and stable, yet remains nimble and stealth. The low-profile, wind-shedding hull will keep you on the water longer, and endless storage opportunities are intelligently located throughout. The AirPro MAX* seat shows up in a big way, now with extended travel along much of the length of the craft. Top it off with Flex Pod OS electronics console and Helix MDTM Motor Drive compatibility, and the fish don't stand a chance.
**Check with our staff on available colors in this model**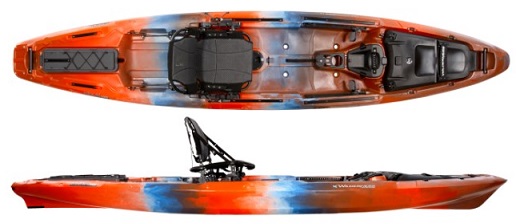 Check with our Kayak sales staff about our current promotions we might have going on. kayak_info@roysbnt.com