Flint $1199.99
11′ 3″ Long
33″ Wide
375 lbs Capacity
Weighs 63 lbs
The Flint delivers high-end performance and high-end features at a mid-range price. It was designed from the hull up for optimal performance in all water types – balancing speed, stability, tracking, and maneuverability. The Flint integrates the features anglers need – rod storage, tackle storage, gear mounting, paddle holders, etc – while preserving plenty of deck space so nothing is in your way.
The Flint stands alone among low-priced fishing kayaks as the ONLY one that can be paddled, pedaled, or powered with a motor. Wherever you want to go, however you want to get there, you will be able to Unlimit Yourself.
**Check with our staff on available colors in this model**

---
Frontier 12 $1699.99
12′ Long
41″ Wide
650 lbs Capacity
Weighs 80 lbs
The Frontier 12 is the ultimate hybrid kayak, designed from the hull up for serious anglers and hunters. Whether you are fly fishing in salt water, bass fishing in a river, or hunting in the marshes, the Frontier 12 will maximize your experience.
The Frontier 12 is ridiculously stable, so you can stand and fish with confidence on the 20″ wide Cast & Blast Deck. Face the action and easily access your gear with 360 degree mobility.
The Frontier 12's versatile and customizable design puts you in control. Go solo in style or tandem with room to spare. Position seats where you want, and outfit the Frontier 12 just how you like with the 172″ of Freedom Track. Surprisingly easy to paddle and completely comfortable, the Frontier 12 knows no limits.
**Check with our staff on available colors in this model**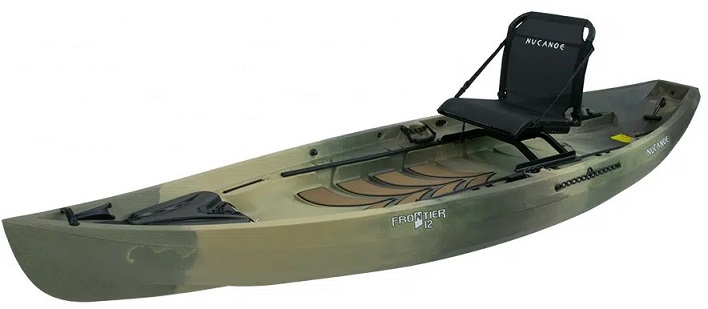 ---
Pursuit $1799.99
13′ 6″ Long
35″ Wide
500 lbs Capacity
Weighs 82 lbs
Combining speed, stability, and open space, the Pursuit provides a fishing experience without compromise. Loads of stability and great paddling performance in skinny water, open water, and moving water will take your fishing to new heights. The Pursuit's platform-style design is packed with integrated features that allow you to customize your Pursuit – rigged up, stripped down, or anywhere in between. The Pursuit's Custom Height Pinnacle Seat sets a new standard for fishing kayaks – its performance and comfort are unmatched.
**Check with our staff on available colors in this model**

---
Unlimited $1799.99
W/Drive $2999.99
12′ 6″ Long
41″ Wide
650 lbs Capacity
Weighs 85 lbs
In the UNLIMITED….yes you can. This kayak was designed to blow through obstacles and give you control. A solid open deck with unlimited rig-ability. A remarkable hull design that is fast AND stable, prepared for any waters. Plug & Play ready for pedals, power, and electronics. The UNLIMITED takes you to the future of kayak fishing & hunting.
**Check with our staff on available colors in this model**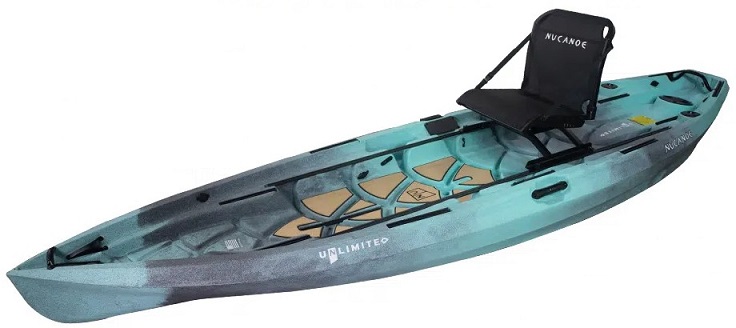 Check with our Kayak sales staff about our current promotions we might have going on. kayak_info@roysbnt.com