Amberjack $1159.99
12′ Long
32″ Wide
550 lbs Capacity
Weighs 72 lbs
With endless ways to set up your fishing platform to suit your needs, we anticipate Vanhunks' Amberjack will become your new favorite ride as you take on choppy water and ocean swell with ease. Amberjack offers you unparalleled stability and tracking and comes up as a real smooth ride.
Weighing in at 72lbs, you won't need to call on your buddy to help you carry it from your truck to the water, but if you had help, you'd have rubber carry handles to lift at the bow and stern, as well as two side carry handles near the seating rig.
**Check with our staff on available colors in this model**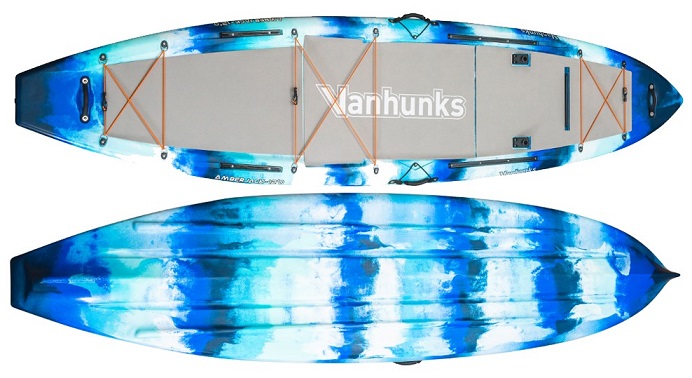 ---
Mahi Mahi $1109.99 Base
$1709.99 w/Pedal Drive
11′ Long
34″ Wide
407 lbs Capacity
Weighs 79 lbs
The Vanhunks Mahi Mahi removable Fin Drive System kayak is straightforward to use, allowing you to reach top speeds in no time and maintain momentum when you are moving, and that frees up your hands when trawling. The easy-to-install Fin Drive System works push action making for natural movement for most people. The Mahi Mahi is a smooth ride and takes little effort to get it moving. The fin drive navigates the Kayak forward, and with the quiet propulsion of the Fin Drive System, the fish will not hear you coming and will still allow you the element of surprise. Kayak Paddles produce splash and generate noise, with the Fin Drive System you will not experience as much noise and disturbances giving you a stealth advantage over your next catch.
**Check with our staff on available colors in this model**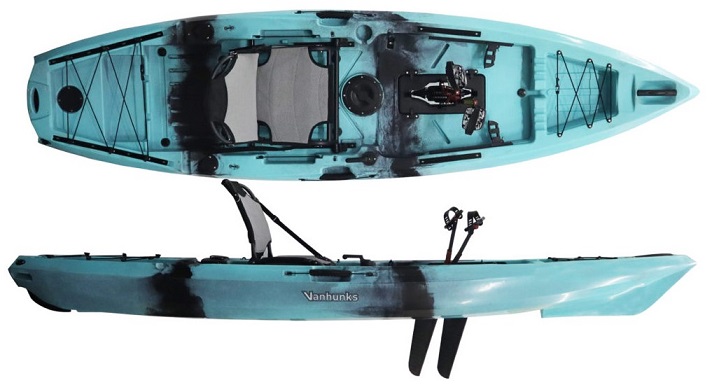 ---
Shad $1139.99 Base
$1825.99 w/ Pedal Drive
10′ Long
35″ Wide
420 lbs Capacity
Weighs 75 lbs
The Shad designed for fishing; four embedded angled rod holders to assist with storage and rod positioning. Three accessory rails can take extra fishing rod holders, accessories, or a better still to mount your fish finder. A Fish Finder can be mounted to the Shad easily as there is spacing built into the Kayak's hull for a transducer and cabling to run comfortably. The transducer plate protects your transducer and under the transducer plate, you will find pre-assembled inserts to secure your transducer.
Overall, the Shad is a great kayak on both flat water, lakes, rivers, and smooth sea conditions. Its overall design will make your fishing experience fun.
**Check with our staff on available colors in this model**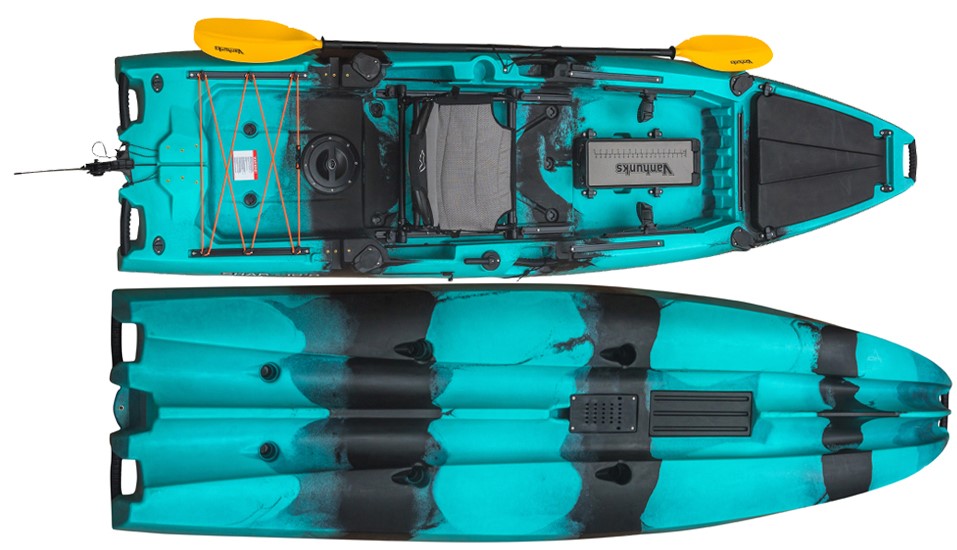 ---
Manatee $799.99
9′ Long
32″ Wide
330 lbs Capacity
Weighs 51 lbs
At Vanhunks Boarding, they don't think there is a cooler touring and fishing kayak than our 9-foot, single, sit-on-top Manatee. Like its namesake, our Manatee is also happy to cruise the waters alone or in pairs.
Completely not territorial, the 9-foot Vanhunks Manatee plays big brother to the 9-foot Whale Runner kayak and features a few extra comfort and convenience trimmings with the accessory tracks and deluxe aluminum adjustable, padded seat. And while Manatees themselves may seem large, heavy and slow, ours weighs in at a comfortable 51 lbs and can undoubtedly make lakes, rivers, and oceans quick and agile work.
**Check with our staff on available colors in this model**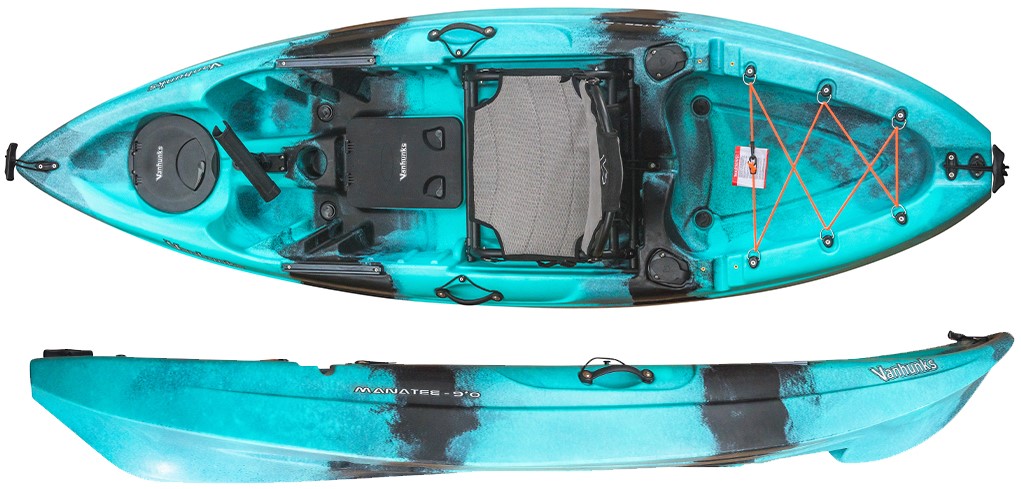 ---
Whale Runner $699.99
9′ Long
32″ Wide
330 lbs Capacity
Weighs 51 lbs
The Vanhunks Whale Runner is the younger brother to our Deluxe 9-foot Manatee. As an entry-level kayak, they still wanted to give you everything you need, but understand that if you're starting on your kayaking adventures, you may want to begin with the basics. This is what the Whale Runner affords.
**Check with our staff on available colors in this model**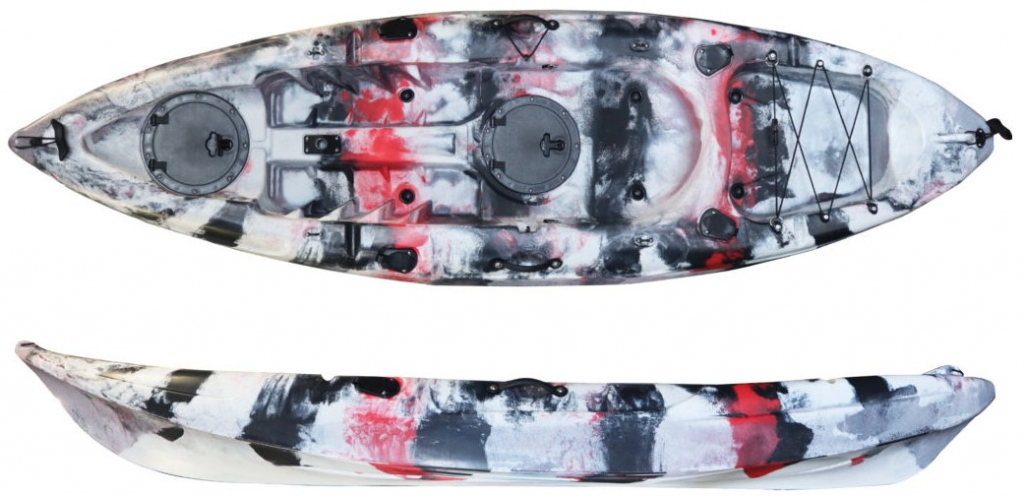 ---
Sauger 12 $1445.99 Base
$2045.99 w/ 1 Pedal Drive
$2645.99 w/ 2 Pedal Drives
12′ Long
35″ Wide
550 lbs Capacity
Weighs 90 lbs
The Vanhunks Sauger 12ft tandem fishing Kayak is standard fitted with two removable Tool Pods, and this is where adaptability and versatility make the Sauger an exciting option for families and recreational to professional. Equipped with the two Tool Pods, this is an exciting tandem kayak offering you excellent stability. Remove the tool pods and you can fit a fin drive or even two, transforming your kayak in a few easy steps. Should you wish to add a propeller drive instead, not a problem; the Sauger is fully compatible with Fin Drive or Propeller Drive. You have multiple upgrade options in one kayak.
**Check with our staff on available colors in this model**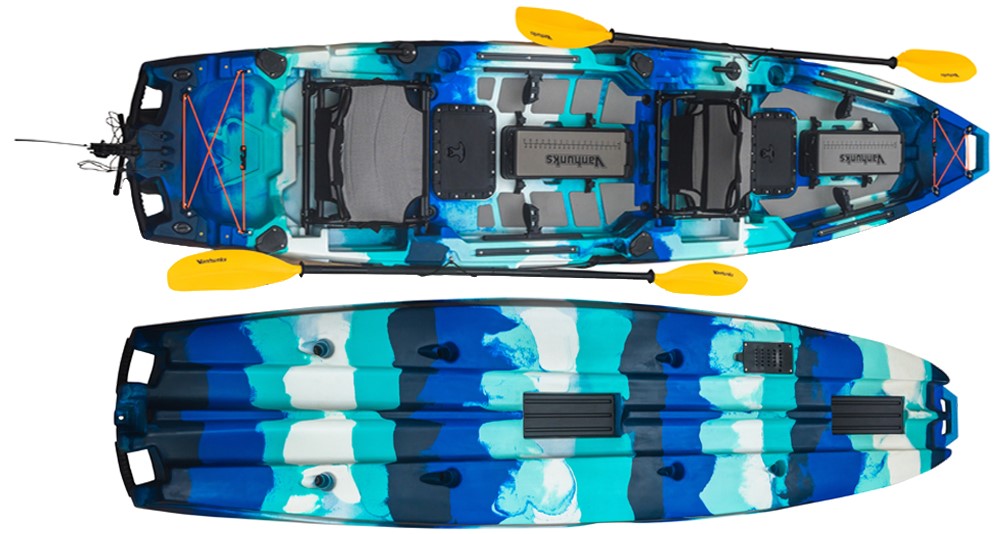 ---
Zambezi $1095.99 10.0 (Kayak only)
Pedal Drive $1699.99
Propeller Drive $1779.99
10′ Long
33″ Wide
410 lbs Capacity
Weighs 65 lbs
Like its bigger brother, the Zambezi 10ft kayak, designed to be perfect for both the fisherman and recreational paddler, at 10ft in length, it's incredibly agile, quick, and packs a punch taking on both flat water and open seas with ease.
**Check with our staff on available colors in this model**

---
Elite Pro Angler 13.0
Regular $2044.99

13′ Long
35″ Wide
475 lbs Capacity
Weighs 77 lbs
If fishing is your game, then the Elite Pro Angler is equipped with all the features you would need to take your fishing to the next level.
Four integrated sloping rod holders are positioned and angled perfectly behind the aluminium seating. Inserted at the perfect angle for trolling rods and wide enough set, so your lures run free behind the kayak without getting caught up and tangled.
**Check with our staff on available colors in this model**

Check with our Kayak sales staff about our current promotions we might have going on. kayak_info@roysbnt.com