ProFish GT $1879.00
11′ 10″ Long
32″ Wide
385 lbs Capacity
Weighs 57 lbs
At just under 12 feet long, the Profish GT is designed for paddlers of all experience levels and sizes looking for a compact paddling and fishing platform that is exceptionally easy to handle both on and off the water.
Compact, easily managed, and incredibly maneuverable, this is our 4WD fishing kayak. The stability of the Profish GT will appeal to both all-water anglers and recreational paddlers looking for a worry-free ride.
The GT paddler is in their element shredding narrow waterways while still fully capable of using the 4WD to punch through the rolling waves of the surf or slow down to stand up and sight cast the backwaters.
**Check with our staff on available colors in this model**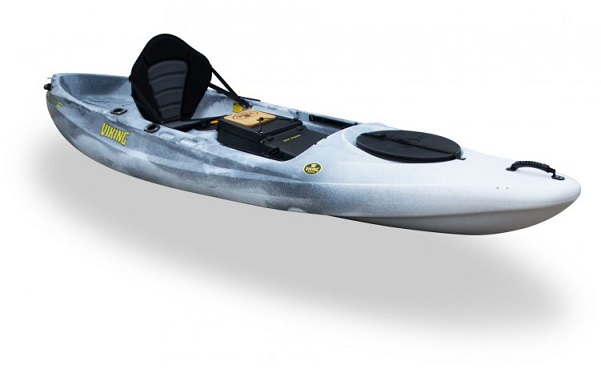 ---
Profish Reload $2049.00
14′ 10″ Long
30″ Wide
440 lbs Capacity
Weighs 75 lbs
The Profish Reload combines the very best features of 20+ years of kayak design at Viking Kayaks.
Add the innovative new features and it provides the kayak angler with the finest fishing kayak available.
Fast, stable, and easy to manage on and off the water, this is the kayak of choice for anglers seeking touring endurance combined with the stability to land record class fish!
**Check with our staff on available colors in this model**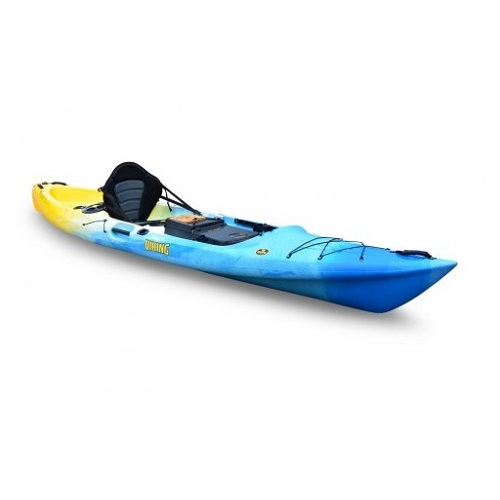 ---
Profish 400 $1669.00
13′ 5″ Long
31″ Wide
386 lbs Capacity
Weighs 60 lbs
The Profish 400 sets comfort, performance, and stability benchmarks for all fishing kayaks. The Profish 400 is angler-friendly, light weight and its maneuverability.
Brass inserts have been moulded into the hull to make fitting accessories such as pods, fish bags, rear well covers and anchor lines (running rigs), an absolute breeze.
THE NEW 2023 VERSION OF THE PROFISH 400 HAS SOME GREAT NEW DESIGN FEATURES!
*Moulded-in side handles
*Large front hatch (like the Reload)
*Larger transducer area
*Lifted bow (like the Reload)
**Check with our staff on available colors in this model**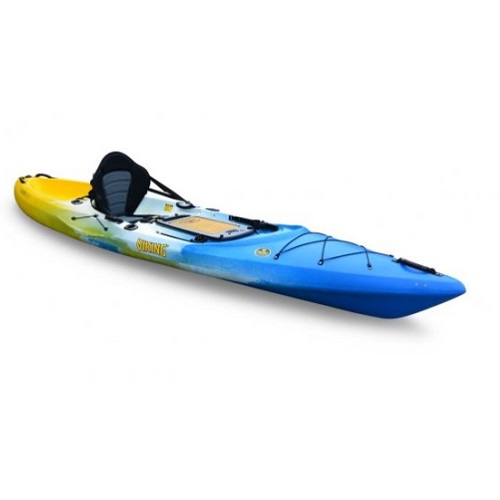 ---
Oxygen 5.7 $2049.00
18′ Long
24″ Wide
253 lbs Capacity
Weighs 59 lbs
The Oxygen 5.7 is the ideal fitness and training Ski. Perfect for clubs and touring as the Oxygen Ski offers more stability than full on race versions, while still maintaining excellent hull speed.
Being made from UV stabilised HDPE means it's maintenance free and bullet proof, making it ideal for clubs as well as individuals wanting a no maintenance craft that can handle knocks and scrapes.
**Check with our staff on available colors in this model**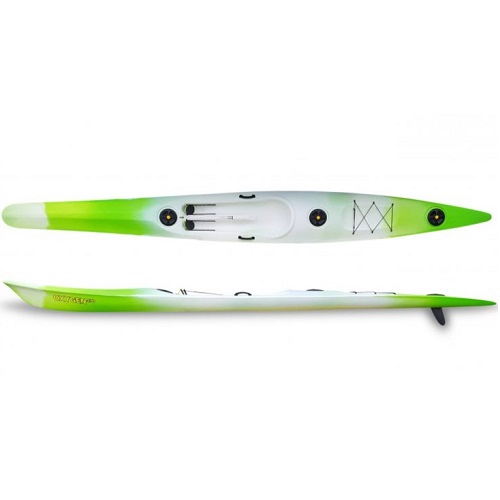 ---
Tempo 2 $1749.00
15′ 5″ Long
35.5″ Wide
550 lbs Capacity
Weighs 80 lbs
The Viking Tempo 2 double answers the long awaited call for a full-sized stable, roomy, fishing and expedition double kayak. The extra length means more space for each person and no paddle clashes when paddling,

It features large front and rear wells for fish and dry bags etc. The four waterproof 6″ hatches have built-in solid containers for extra tackle and gear you need to keep dry.
These kayaks are super stable and have been designed with attaching motors in mind; the stern is extra buoyant to allow for extra motor and battery weight.
**Check with our staff on available colors in this model**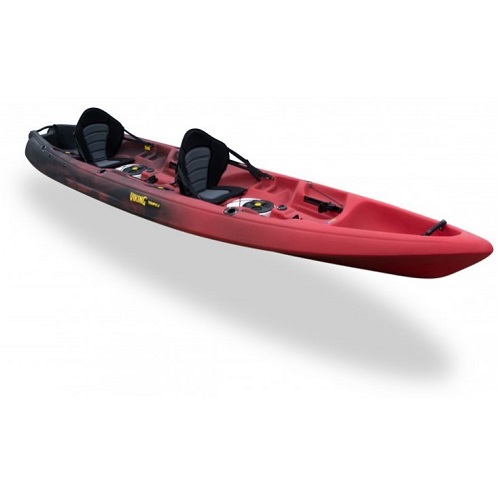 ---
2 + 1 $1529.00
12′ 9″ Long
32″ Wide
485 lbs Capacity
Weighs 66 lbs
The ideal kayak for those wanting the versatility of a double kayak that can be easily paddled as a single as well.
Awesomely stable, the 2+1 offers room and comfort while the rounded edges and sides make this an excellent kayak for easy re-entries during those snorkeling adventures along the coast or when having fun in the waves.
**Check with our staff on available colors in this model**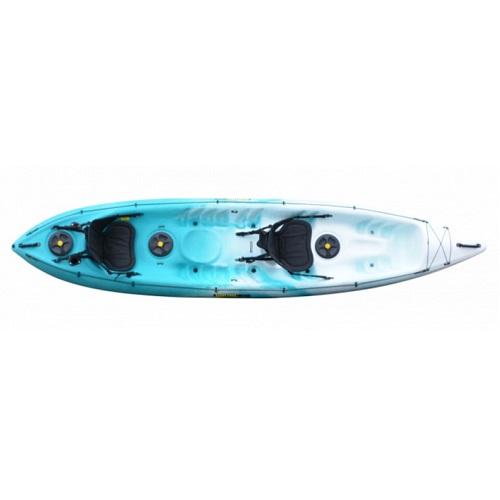 ---
Espri $1349.00
11′ 9″ Long
32″ Wide
353 lbs Capacity
Weighs 49 lbs
The Espri delivers class-leading performance in the waves, on the ocean and lakes, fishing or just cruising. The Espri glides through the water so much easier than other brands this size, making it a joy to use.
Two hatches, the one in front of the seat are easy to access while paddling and have a bucket inside to prevent your small items from getting lost inside the hull. The forward hatch provides access to the bow for added storage.
Two rod holders are fitted, you can use one for your fishing rod and the other for your net or gaff. The Espri is very stable to fish from and because it glides through the water so easily, you can venture a little further than smaller kayaks.
**Check with our staff on available colors in this model**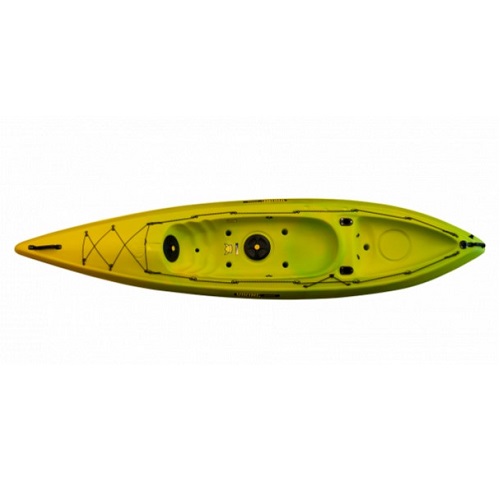 ---
Nemo $1259.00
10′ 5″ Long
31″ Wide
287 lbs Capacity
Weighs 42 lbs
The Nemo is a family recreational kayak that's great to paddle, easy to transport, and easy to store. The deeper cockpit and flatter hull give a fantastically stable ride, and the central hatch with bucket provides internal storage for your smaller items.
**Check with our staff on available colors in this model**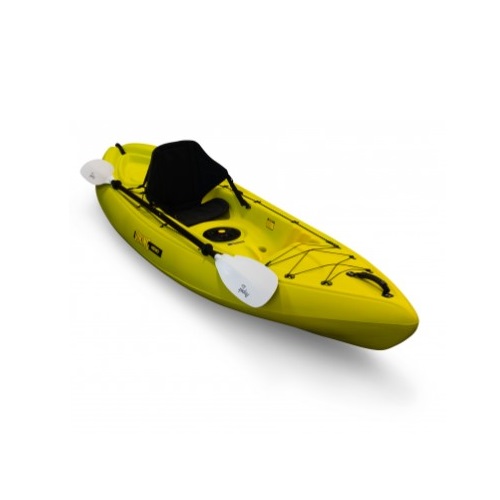 ---
Check with our Kayak sales staff about our current promotions we might have going on. kayak_info@roysbnt.com