Jackson Kayaks – Made for Fishing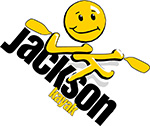 Jackson Kayak makes some of the most popular whitewater, fishing and exploration kayaks because they are high in quality and full of features. We carry 15+ models – including the Big Rig & Big Rig Pro, Cuda series, Kilroy, Kraken series, Mayfly and Superfishal, a stand-up paddleboard designed specifically with fishing in mind.
Each Jackson kayak is made right here in the USA.
Jackson Kayaks – Online Deals and Promotions
Interested? Check out some of the Jackson Kayaks we have listed online… Discounts available on older models!!
Or come by the shop (we're open everyday 9 am to 6 pm) or give us a call at (361) 992-2960.